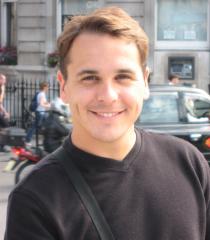 My name is Julien Lecomte, and this is a static copy of my now defunct personal weblog. I used to write mainly about my passions, amateur astronomy and woodworking, as well as my technical interests, including operating system development and web technologies.
I am currently the Director of Engineering for the Yahoo Mail frontend team. Prior to that, I managed the Yahoo Presentation Technologies team, which mission was to work across all organizations and with an industry-wide perspective to bring the best next-generation presentation platforms to Yahoo, with a strong emphasis on the web. Prior to that, I was an Engineering Manager on the Yahoo Search Frontend team, working on the next generation server-side runtime serving stack, based on Node.JS, to power Yahoo Search and other Yahoo properties. Prior to working in Search, I was part of Yahoo's Ajax evangelism team, a group that provided architectural assistance to internal developers on the design and implementation of rich interactions in the browser, working alongside Douglas Crockford, Bill Scott and Iain Lamb (co-founder of OddPost). Among other things, I worked extensively on Yahoo Mail, wrote the YUI Browser History Manager and the YUI Compressor, and contributed to many different projects throughout the company.
Prior to working at Yahoo, I was a senior software engineer at Scalix, a start-up company later acquired by Xandros, where I spent a couple of years developing their incredibly powerful web client. Prior to joining Scalix, I was a software engineer at easyplanet where I worked on a consumer VoIP application based on the OpenH323 library.
During my spare time, I like to go hiking in the hills surrounding the Santa Clara valley, observe the night sky, build furniture in my wood shop, work on my hobby operating system — Simplix — enjoy some good wine and foods, and travel to exotic destinations with my beautiful wife.
In 2001, I obtained a Master's degree in computer science from Supelec, a leading university in France.
My resume can be found on LinkedIn.
Additionally, you may contact me at julien [dot] lecomte [at] gmail [dot] com