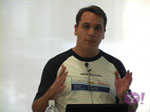 A few days ago, I gave a talk at Yahoo! about High Performance Ajax Applications. Eric Miraglia, from the YUI team, and Ricky Montalvo, from the Yahoo! Developer Network, were kind enough to shoot the video, edit it, and put it on the YUI Blog. In this talk, I cover the following topics:
Developing for high performance
High performance page load
High performance JavaScript
High performance DHTML
High performance layout and CSS
High performance Ajax
Performance measurement tools
Follow along by downloading the PowerPoint slides, or by looking at the slides on Slideshare. I'm looking forward to reading your comments and answering your questions in the comments section of this blog!
windows password recovery: PasswordLastic.com. For Free | Research chemicals for sale. Buy research chemicals.